Yucátan
Stunning tropical beaches, pristine white sand and deep blue waters.
One of North America's best-kept secrets!
Diversity is key when describing Mexico, with a plethora of different environments to explore from jungles to mountains, deserts and a fascinating combination of rich cultural variety. Our projects are located in the Yucátan Peninsula of Mexico, south of Cancun, along the gorgeous Caribbean Sea and close to the beautiful resort towns of Playa del Carmen and Tulum.  Temperatures remain high throughout the year, providing more time for outdoor activities.  The area is also a fascinating place to learn about Mayan culture, try complex and varied flavours and explore the world's second largest barrier reef.  Discover local attractions like the UNESCO World Heritage Site – Sian Ka'an Biosphere Reserve and world famous scuba diving destinations.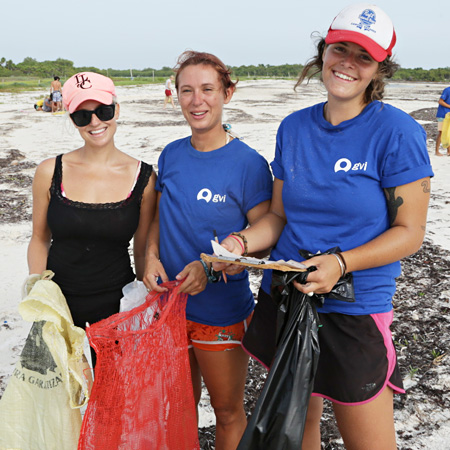 Mexico Marine Awareness Experience
Yucatan
Travel to Mexico and the stunning Caribbean at the Yucatan Peninsula to learn about marine conservation.  GVI has been operating in the area for over 12 years and are well respected and valued by their local partners, to whom they provide critical marine research data.  Students will largely contribute to this established marine environment monitoring and research initiative by collecting and reporting this vital data. Students will be exposed to various underwater environments, from the crystal clear waters of Mexico's cave network (Cenote) to mangroves and seagrass lagoons and, of course, the warm Caribbean Sea.
Emphasis is placed on increasing students' awareness surrounding relevant conservation issues, on gaining a better understanding of the local ecosystem in Mexico and learning how to preserve its biodiversity. Other elements that may be examined include water security, climate energy and access to clean energy.
Students will review their individual and collective impact on the ground by asking questions in order to evaluate their successes and areas in which they felt more challenged. They will receive continuous support from qualified staff members who will help to show the students' the connection between the work they have done on the project and the Sustainable Development Goals.
Each projects' objectives are based around specific United Nations Sustainable Development Goals. Students could be involved in initiatives based around any of the United Nations' Sustainable Development Goals listed below:
SDG no.6: Ensure access to water and sanitation for all
SDG no.7: Ensure access to affordable, reliable, sustainable, and modern energy for all
SDG no.12: Ensure sustainable consumption and production patterns
SDG no.13: Take urgent action to combat climate change and its impact
SDG no.14: Conserve and sustainably use the oceans, seas, and marine resources
Please note that we have a comprehensive curriculum based around the United Nations Sustainable Development Goals, which is available for implementation by the teacher and the group leader on the ground, if you wish.  Additionally, projects can tailored to a groups' in-class curriculum, or one of the international programs and curricula listed on Service Learning Tours home page, however specific work will always be dependent on the needs of the community and our local partners at the time.
INTERESTED IN MEXICO?
Contact us to discuss your unique requirements.