Earlier this month we were excited to host AFL legend Paul Roos on a very special webinar for school leaders – Tackling the Big Picture Issues in Australian Schools.
If you were unable to attend, you can watch the full webinar here. We also wanted to share six of the key takeaways from the session, although you'll discover many more as the hour was packed with insights on how school principals and other leaders can:
Gain a significant competitive advantage as a leading school of choice
Beyond the paperwork – develop dynamic and effective best practice risk management for all your offsite co-curricular tours, programs and excursions
Enrich students and staff through custom-designed, curriculum-linked, experiential learning tours and programs
Rethink service-learning programs to be more ethical, sustainable and student-driven, with genuine, life-long learning outcomes
Build shared vision and values, and enhance culture within the school community through a common purpose
Lay clear pathways for students to become active global citizens.
---
Key takeaway 1: As much as travelling is fun, it's also about education.
Paul Roos spoke about his leadership lessons from his time on the field, as both an AFL player and high-profile coach, and how those lessons can be transferred to the world of education. He now delivers these lessons to the corporate, education and sporting sectors with his team at Performance By Design.
Paul is a well-seasoned traveller and spoke with great enthusiasm about family trips to Africa. And not just because travelling is fun – it's also about education. Paul spoke about the family's trip to the slums of Kenya, which left a deep impression on his two sons.
What students learn out of the classroom can outweigh what they learn in the classroom." As Paul summed it up.
We agree strongly that a balance of both classroom and hands-on learning is ideal for developing well-rounded, engaged and informed active global citizens.
Key takeaway 2: Now is the time to reset your school's touring program
During the webinar we highlighted the fact that COVID-19 has been a game-changer for education. It has provided a stark reminder that travel is an enormous privilege. While travel was paused, we've had a chance to reset what we're doing. We know that:
We should not be aspiring for educational travel to go back to normal. We should be aspiring to do better
There is more awareness of the environmental and social impacts of travel – which is particularly relevant to your school's service-learning tours. It also relates closely to the cross-curriculum priority of sustainability
Your school can use this opportunity to ensure that you are offering students programs rich in meaning and experience and, most importantly, that they have genuine educational merit.
Key takeaway 3: School leaders need support to reset the touring program.
These challenges outlined above are all significant, and school leaders should not tackle them without the right support. In fact, we asked the school leaders who were online for the session the following questions:
Is your school touring program educationally robust, curriculum linked, and custom designed to support true learning outcomes and classroom teaching?
Does it include subject related, real-world, experiential learning activities that engage your students? Does it expose students to subject experts and potential future careers?
Does it offer unique learning opportunities for your whole school?
Are all the risks being properly mitigated?
A quick show of (virtual) hands suggested that no one on the call was prepared to answer 'yes' to all of these questions. We were excited to announce the details of two products and services we have developed to meet those needs – our Touring Program Strategic Planning & Review and Risk Management Audit and Community Learning Projects.
Key takeaway 4: It's time to rethink service-learning to be more ethical and sustainable
We also explored some of the ethical issues associated with previous school touring programs. In particular, older-style service-learning programs have come under the microscope in recent years.
We believe the whole concept of service-learning needs to be examined closely for relevance and to ensure a truly ethical and genuine experience that does not take advantage of the communities it is meant to serve. In fact, it's often the case that going on a trip with the purpose of "serving others" doesn't necessarily support the learning it is meant to. The programs may end up being tokenistic rather than genuinely useful.
At the extreme end of things, many service learning opportunities have turned out to not even be real! One example of this is orphanage visits – where it's later come out that the orphanage was created just for a tour, or a building was erected only to be knocked down and built again by the next group!
We suggest reading more from Leigh Mathews on this – she's an Australian thought leader who is publishing some amazing thinking in this space.
Key takeaway 5: Good risk management is not just about paperwork.
David Gregory of Xcursion Risk Management spoke about the latest in best-practice risk management for schools. A key takeaway: despite what you might think, good risk management is not all about the paperwork. Training and culture is far more important.
As David said: "Good risk management is about building the systems, processes and frameworks that are repeatable and effective. Your staff have the biggest impact on safety – in terms of how they are trained, their attitude and culture, and decision-making skills. You can and should do a lot of preparation in the planning phase, however the ability to make sensible decisions on the ground is also critical."
Key takeaway 6: When it comes to culture, nothing is more important than relationships.
Paul's greatest passion throughout his career has been transforming cultures – of sporting teams, corporate organisations and schools. His number one piece of advice for tackling cultural transformation in your school? Building relationships at the leadership level. Why? Because culture is always driven and modelled at the leadership level, no matter the team or organisation.
As Paul said: "Strong relationships amongst your leadership team will flow down to your students. Lean on each other and support each other. If you're not enjoying it and don't have a great culture code, the students will be able to read that energy."
---
Watch the webinar now!
If you would like to watch the webinar in full, you can access a recording here.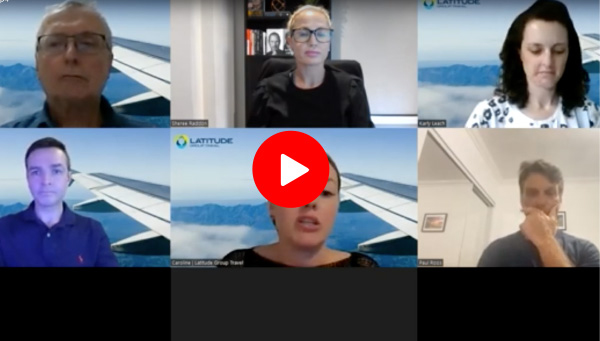 Or, reach out if you would like to have a discussion about how we can help you reimagine your school's touring program to be more strategic, ethical and aligned with best-practice risk management principles.