Kerala
A rich culture, beautiful landscapes and charming locals.
A developing country, India is a rich in culture and traditions. There is an enormous gap between rich and poor and about 35% of India's population are living below the poverty line. A large part of the population is living well below the breadline, with little access to formal education, income opportunities, and decent hygiene standards.
Kerala, a state in South India on the Malabar Coast, has many attractions including almost 600 km of Arabian Sea coast and beaches, a network of backwaters, beautiful landscapes, wonderful flora and fauna, rice paddies and coconut groves. Shaped by its landscape, Kerala is home to spice and tea covered hills as well as wildlife such as wild elephants, exotic birds and the occasional tiger. It is also a place of crazily vibrant traditions such as Kathakali plays and snake-boat races. Visitors here will be enchanted by the hospitality of the people and a highly colourful culture with extraordinary local, complex cuisine that includes a variety of tasty spices, coconut rice, chicken curries, egg masala and fish curry. On this GVI project students will make a long-term difference in helping to bridge the community development gap. Project work takes place around the city of Kochi (Cochin), a port town offering fascinating snippets of history and culture, including the oldest Church in India, an extensive spice market and the famous 15th Century Chinese fishing nets.
GVI has been operating in Kochi for almost 4 years and are well established and respected within the community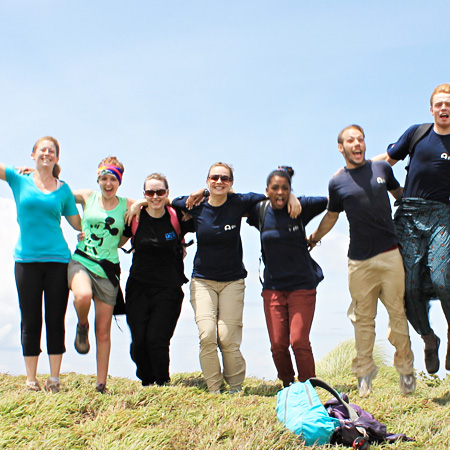 India Community Development/Construction/Sports Experience
Kerala
The program will focus on improving basic human rights through educational development, infrastructure improvement and cultural exchange through interaction with the local people. In Kerala, students will largely contribute to whatever is needed at the time, including community development projects, primarily involved in improving the general infrastructure and learning environment for local disadvantaged children. The projects in Kerala include a variety of community and construction work. India is likely to be a new experience for most students so the climate, environment and long days are likely to test their physical strength and even confront them emotionally. A typical day could involve teaching English to slum children in one of the school projects, teaching art activities in the special school, or making an eco-toilet while chatting to and interacting with local slum residents. You could even teach sports to young children in the morning and spend your afternoon building an eco-garden. Projects are structured as well as flexible enough to accommodate individual passions and interest.
Each projects' objectives are based around specific United Nations Sustainable Development Goals., however students could be involved in initiatives based around any of the United Nations' Sustainable Development Goals listed below:
• SDG no.1: End poverty in all of its forms everywhere
• SDG no.4: Ensure inclusive and quality education for all and promote lifelong learning
• SDG no.9: Build resilient infrastructure, promote sustainable industrialization and forest innovation
• SDG no.10: Reduce inequalities within and among countries
• SDG no.16: Promote just, peaceful, and inclusive societies
Please note that we have a comprehensive curriculum based around the United Nations Sustainable Development Goals, which is available for implementation by the teacher and the group leader on the ground, if you wish. Additionally, projects can tailored to a groups' in-class curriculum, or one of the international programs and curricula listed on Service Learning Tours home page, however specific work will always be dependent on the needs of the community and our local partners at the time.
INTERESTED IN INDIA?
Contact us to discuss your unique requirements.