Pokhara
A majestic country full of cultural diversity and exhilarating outdoor adventures.
Welcome to Nepal
Nepal offers stunning scenery, an intensely rich culture and tempting cuisine. Visitors to Nepal are often faced with too many choices with a wide range of alluring sights to see and adventure activities to relish. Unfortunately, most parts of Nepal are poverty-stricken and in grave need of support to assist in improvement of their living conditions.
Pokhara
Pokhara, the second largest city in Nepal is surrounded by the spectacular Himalayas. The city is very spiritual yet traditional, with a wide range of beautiful temples that charm all those who lay eyes on them. Sightseeing includes the vast mountain ranges and other scenic attractions like Lake Phewa. Activities such as kayaking and a diverse range of trekking options tempt those seeking more vigorous activity. Pokhara lies in the centre of Kaski District, Gandaki Zone and the Western Development Region. It is also known as the City of Seven Lakes and three out of the ten highest mountains in the world are within 50 kms of the city, making it one of the adventure sport capitals of the world. Traditional Nepali food has rich and spicy flavours and it's worth trying one of the local favourite dishes called Momos (dumplings filled with meat). Pokhara is a city of breathtaking beauty, offering a magnificent culture.
After the Nepal Earthquake in April 2015 all GVI's projects are focused on providing disaster relief to the communities in which we operate.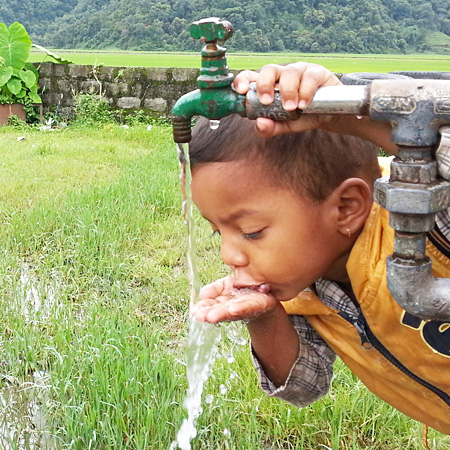 Nepal Community Development Project
Pokhara
Following the tragic earthquakes in Nepal in April 2015, the country is trying to rebuild its badly damaged infrastructure. GVI's teams are working closely with local partners and disaster relief practitioners to ensure that any work they do makes as much impact as possible, without putting further strain on the already stretched resources of the region. GVI believes it is vital that aid continues to flow and that any travellers coming to the region are well prepared and managed by experienced professionals on the ground.
Participate in service learning in this fascinating country. Contribute to sustainable development projects connected to ongoing earthquake relief efforts, while focussing on improving basic human rights through educational development and infrastructure improvement. Gain intercultural understanding through engaging in educational activities connected to Nepali culture and daily life.
In Pokhara, students will largely contribute to needs based community development projects in less developed areas, primarily involved in improving the general infrastructure and learning environment for local disadvantaged children. Your students will be involved in construction and renovation projects, working alongside GVI staff members and local partners, with whom they have long established relationships. Days are long and physically demanding in an environment quite unlike most students have ever experienced. Expect to be challenged emotionally as well as physically!
Students will review their individual and collective impact on the ground by asking questions and using critical thinking, in order to evaluate their successes and areas in which they felt more challenged. They will be supported on an ongoing basis by qualified staff members, who are there to assist the students to see the connection between the work they have done on the project and the Sustainable Development Goals.
Each projects' objectives are based around specific United Nations Sustainable Development Goals, however students could be involved in initiatives based around any of the United Nations' Sustainable Development Goals listed below:
SDG no.1: End poverty in all of its forms everywhere
SDG no.4: Ensure inclusive and quality education for all and promote lifelong learning
SDG no.9: Build resilient infrastructure, promote sustainable industrialization and forest innovation
SDG no.10: Reduce inequalities within and among countries
SDG no.16: Promote just, peaceful, and inclusive societies
Please note that we have a comprehensive curriculum based around the United Nations Sustainable Development Goals, which is available for implementation by the teacher and the group leader on the ground, if you wish. Additionally, projects can tailored to a groups' in-class curriculum, or one of the international programs and curricula listed on Service Learning Tours home page, however specific work will always be dependent on the needs of the community and our local partners at the time.
INTERESTED IN NEPAL?
Contact us to discuss your unique requirements.